Home
CANCELLED - MJs Team Racing - CANCELLED - 23rd August 2015 (Sunday)
Unfortunately the MJ Teams Racing has been cancelled again. Possibly will be run later in the year.
Check out the tips and tricks video competition from 2014-2015
Leading up to the 2014 National Championships at Middle Harbour 16' Skiff Club in December 2014 we announced a video competition to find the best tips and tricks from this year's MJ sailors that could help the sailors of future years. At the final round of the 2014-2015 States Championship at Point Wolstonecroft we all got to see the videos and the judges awards were made.
2015-2016 Regatta dates for your diary
24 - 25 Oct 15 States R1 Port Kembla
21 - 22 Nov 15 States R2 Avalon
27 - 30 Dec 15 Nationals Manly 16 Ft Skiff Club
12 - 14 Feb 16 States R3 Point Wolstoncroft
Club and Association AGM dates
Manly 16ft Skiff Club - Monday 4th May 2015 - at the club.
Manly Junior Association - Wednesday 13th May at 7.30pm - Middle Harbour 16ft Skiff Club Deck Boardroom
Hornsby - 23rd July 2015 - Annual General Meeting - Date/Venue TBC
MJs Team Racing - Notice of Race - 19/4/15 (Sunday)
The Manly Yacht Club (MYC) Junior Challenge Trophy is a Teams Sailing event. This format of sailing competition is quite different to the fleet racing which is sailed at most club events and state and national titles. Races are sailed and the results of the whole team matter.
Quick heats (10-15 minutes each) of 2 teams racing each other are conducted. Each team will race many other teams and will probably race all other teams at least once.
Tactics and team-work will win the day in a frantic and fun schedule of racing. Speed is only a minor contributor to winning teams races.
Team racing background and full race details (Notice of Race) here. Check out that trophy!
Please book by 12 April - 1 entry per team - cost $90 per team ($30 per boat). To book your team please follow this link
2014-15 MJ NSW State Championships

Congratulation to the winners of the 2014-15 MJ NSW State Championships - Hugo Taranto and Noa Grasse sailing 2765 Firefly
Full reports can be read on the event home page
2014 National Champioships

Congratulaions to winners - 2765 Firefly skippered by Hugo Taranto and crewed by Noa Grasse.
For a full report please see the event home page
MJ Nationals
The daily reports have now been moved to the Nationals homepage.
Round 2 MJ NSW State Championships - Avalon

Avalon Sailing Club turned on the weather for a picturesque regatta in the pristine Pittwater for Round 2 of the MJ States on 22/23 Nov 2014 . Thanks to the well-oiled machine of volunteers for getting us all onto the club deck in time for a smooth start on Saturday morning and a picnic lunch on the beach up north of the club between races!!
Conditions on Day 1 were almost perfect – Sunny with a light SE seabreeze. Some in the fleet would have preferred a few more white caps but you can't please everyone. 1 race either side of lunch produced zero capsizes and very tactical racing in light variable winds. Lots of lead and position changes made for competitive racing and kept spectators on the edge of their gunwales. Day 2 weather was almost too perfect – sunny and clear with very light and variable winds. Winds were so light that the race committee only got a race started at 2.30pm – 3 hours behind schedule. Then unfortunately it had to be abandoned as the fleet only progressed centimetres over the start line. 10 minutes later we gave up and headed home. Still, all was not lost – kids had a blast swimming and playing games with their boats while parents got some desperately-needed chill-time.
At the top of the open fleet the competition was very close in the first half of both races with 5 boats having a taste of the lead at some point – Another Dark and Stormy (Alex Hart), Firefly (Hugo Taranto), Five Star (Alastair Hunter), Shotgun (Jake Barnabas) and Wicked (Jesse Dransfield). However, Firefly prevailed in both and took 2 out of 2 wins. For further results have a look at the results page.
Avalon Hospitality was always friendly and homely and the Regatta and racing execution went very well thanks to all volunteers. MJs can't wait to return to Avalon in seasons to come. See you all at Middle Harbour for the Nationals and then Point Woolley for the conclusion to a fascinating State Titles series.
For a complete report see event home page
Round 1 MJ NSW State Championship - Port Kembla

Port Kembla Sailing Club yet again produced an awesome regatta for Round 1 of the MJ States. Thanks to the volunteer army for providing that signature hospitality!!
High winds on Day 1 produced a shortened course for race 1 and the abandonment of Race 2 for the Novices due to fresh SE winds approaching 20 knots. Lots of choc-tops and retirements. The Open fleet powered on and put in 2 exhilarating high-octane races – some fast shy-reaching on the triangles. Day 2 was lighter and allowed the Novice to complete 2 clean races with massive improvements in skills all round.
At the top of the open fleet the competition was very close between the top 2 boats – Wicked (Jesse Dransfield) winning 2 and Firefly (Hugo Taranto) taking his first win in State Champs races. For further results have a look at the results page.
Regatta and racing execution was fantastically smooth thanks to all volunteers. All agreed that it was yet another extraordinarily successful MJ Regatta. See you all at Avalon.
For the complete report please look on the event home page
Winter Training
The Winter Training was hosted by the Manly 16' skiff Club and Manly Yacht Club. These took place on the 27/7/14 and 10/8/14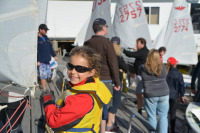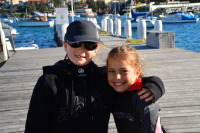 We had 2 great days of training up to 33 boats on the water from many different clubs. The skill level ranged from Rookie through to the front of the fleet. We saw some great improvements over the 2 days.

Photos
Lots of photos and video slideshow - Thanks to Genelle Aldred
Dates for this Season
States
Round 1. Port Kembla Sailing Club – 25th & 26th October, 2014
Round 2. Avalon Sailing Club - 22nd & 23rd November, 2014
Round 3. Pt. Wolstoncroft – 14th – 15th February, 2015
Nationals
Middle Harbour – 27th – 30th December, 2014
Newsletters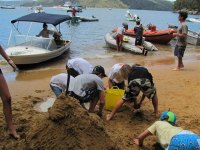 October 2013 Newsletter (update)
News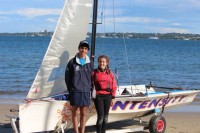 Congratulations to 12 year old Jacina Oliveri and her brother Jante from Port Kembla who won the MG State Titles on handicap on the weekend. What a big step from skippering an MJ in the Novice Fleet to skippering an MG – well done Jacina.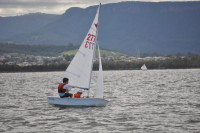 Congratulations to
Zac Barnabas and Oscar Triglone
for winning the 2013 MJ National Championships and the 2013/14 NSW State Championships
Lots of Photos on the pictures page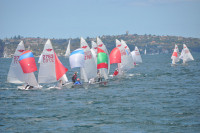 Some Great Sailing at this weekend Round of the States in Manly Cove. Thank you to all the Volunteers that worked so hard to make a great weekend. Lots of Pictures can be found here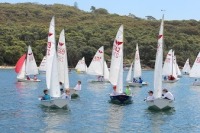 More pictures from the 2nd round of the States at Manly from Genelle Aldred - Thanks Genelle
Presentation
Race 4
Race 5
Race 6