Home
Illawarra Youth Regatta
Port Kembla Sailing Club will be hosting the 2015 Illawarra Youth Regatta on 28th Feb-1st March.
MJ Nationals 2014-15
Middle Harbour 16 Foot Skiff Club
Regatta Report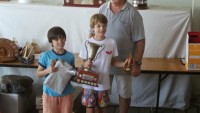 After 7 years the Manly Junior National Titles returned to Middle Harbour 16 Foot Skiff Club for 2014-15 providing a Sydney-based location after the highly successful out-of-town regatta at Port Kembla last year. Mike Salter (president) and Stuart Thorpe (secretary) had their work cut out as new people to the roles of looking after both National and NSW MJ Associations and regattas. Big thanks go to previous president Genelle Aldred and State Vice President Rebecca Curry for providing great ongoing support throughout this transition period.
Despite this new set of hands, the regatta had all the hallmarks we have come to expect from the Manly Juniors – efficient organisation, fun and friendly atmosphere, lots of sponsors and prizes and a great sense of sailing community. The Middle Harbour parents and other volunteers seemed to effortlessly make sure we were well fed and watered with the BBQ going non-stop and supplies plentiful. The racing resources and organisation provided by the club was also outstanding with very few glitches along the way.
Col Chidgey (Race Officer) and Kingsley Forbes-Smith (Novice Coach) were present as ever at major MJ regattas providing their experienced, guiding hands to old and new parents alike – what would we do without them? However a new feature this year were the on-water jurors – Melissa Yeomans and Erica Kirby – bringing their years of experience playing a similar role in other classes around the country.
Being in the hub of pleasure-craft activity in Middle Harbour provided a carnival atmosphere with very large power boats and yachts a constant presence in the channel as the fleet travelled between club and race course – the MJs were in glitz-central at the peak of the boating holiday period – between Christmas and New Year.
A fantastic response from clubs and competitors saw a registered fleet of 48 Manly Juniors – 32 Open Fleet and 16 Novice Fleet – a very decent fleet size. It's great to see the class still holding its own with promising signs of growth.
Race Organisation
All this great preparation, planning and man-power was let down by the weather on the first 2 days. Day 1 only providing enough wind for a shortened race and Day 2 so light the fleet did not hold a race. This situation presented the Race Committee and organisers with a massive challenge – squeezing the racing schedule into half the time available to race. Somehow they were able to complete a 6 race series providing for a drop and races carried out over varying conditions. So a very good result given the circumstances.
The frustrations of Day 2 were oozing out of sailors, parents and volunteers alike with all agreeing flopping around the sound waiting for wind for 5 hours was much more draining than holding 3 races in a 20+ knot breeze. However Day 3 provided the goods with a classic East Coast Noreaster building to about 20 knots in the afternoon. This delivered 3 exciting races with a 4th that went begging when the Race Committee ran out of time to start it.
Day 4 was back to the light stuff but not light enough to stop racing. An early morning start provided enough time to complete 2 races before a return to the club mid afternoon in order to get through scoring, protests and presentation.
So a good cross-section of conditions provided for a fair regatta, even though it ended up being 2 races short of the 8 scheduled.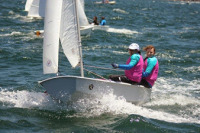 Competition and Results
In the Open division it was 2765 Firefly skippered by Hugo Taranto and crewed by Noa Grasse that was able to show killer consistency and ability to sail superbly in all conditions. Firefly, being one of the lighter crews, got a close 2nd in the first race but then never looked back by winning the remaining 5 races. Firefly was able to handle the heavy breeze a lot better than other light crews and better than most heavier crews. This domination ensured that Firefly brought the championship title back to the founding MJ club, Manly Yacht Club, for the first time since the inaugural championship year 45 years ago. A long wait but well worth it for a crew that did it in such style. I'm sure the MYC membership are very proud. Also a feat rarely achieved in the history of this title is that the Firefly crew also took out the Junior category with Hugo due to turn 12 a few weeks after the regatta and Noa a 9 year old. Well done Firefly – great, smart sailing.
Long-time favourite, experienced sailor and fierce competitor 2783 Wicked, sailed by Jesse and Tyler Dransfield experienced some harsh misfortunes throughout day 3 when they were dominating in the strong sea-breeze. A freak capsize and a line-break meant Wicked did not get the results they had trained hard for and the regatta slipped through their fingers. That is sailing and hopefully the experience will make this pair stronger in regattas and classes to come.
But from misfortune on one hand emerges a great sailing story on the other – 2773 Shot Gun (Jake Barnabas and Liam Karunaratne) has showed massive improvement at state regattas and club racing this season to find herself with a win in Race 1 (taking home the Invitation Race trophy) and top 5 results in all other races to take out 2nd place in the national championship – great consistency paid off. This is truly a remarkable result for a boy in his first year skipper a Manly Junior.
In 3rd place was last year's Junior Champion 2776 Thin and Crispy (Liam Hazell and Aidan King) who showed great consistency to nose past the 4th placegetter on countback – Liam found it challenging in the light stuff but got some good results in those races to stack up against their good Day 3 results. In 4th place was the Handicap trophy winner 2780 Five Star (Alastair Hunter and Jake Bentley) showing great improvement throughout the regatta. 5th went to 2770 Wet'n'Wild from Middle Harbour – a great result from the host club that is rebuilding their MJ fleet. 6th was 2769 Another Dark and Stormy (Alex Hart and Nelson Brownbill) – a fantastic result from this first-time skipper.
Again this year the large and dominant club Manly 16'SSC took out the teams award having 4 boats finish in the top 6 and easily taking out the top-3-boats award. Well done Manly Skiff Club for keeping the standard of sailing so high in this Junior class.
The first all-girl crew were Hollie St John and Bethan Karunaratne in 2768 Toffee Apple. They sailed very well to come in 11th overall – a big improvement on last season and showing great determination and toughness.
In the Novice Fleet the handicap standings were very tightly contested with only 6 points separating 1st and 6th. But it was Middle Harbour boat 2757 Twiggy sailed by Tommi and Peggy Stanbury who won the handicap standings by improving better than any other boat from race to race. 2 other Middle Harbour boats took out 2nd and 3rd showing that the club has a bright future from an improving novice fleet of MJs. A special mention goes to the Novice Scratch winners 2777 BlackJack (Zoe Dransfield and Maya Lilley) – an all-girl crew that sailed consistently well throughout. These girls are more than ready to take on the open fleet next season.
All placegetters can be viewed in the detailed results on the website. Well done to all sailors for whatever your sailing achievements were at the regatta. Be it getting round the course in time or completing a race in more than 15 knots – I'm sure I'm safe to say that all sailors went past some milestones in this regatta. That's what it's all about – a developmental learning experience for all.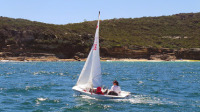 Presentation and Thanks
At the end of sailing on Day 4 and what seemed like an endless sequence of protest hearings from some incidents in the last race the presentation commenced and was hosted by Mike Salter. This presentation was an extremely high-energy presentation thanks to the Mike's oratory and motivational skills – the sailors and parents alike were cheering and screaming for every single award; the jokes were flying and cameras were snapping – thankyou Mike for bringing game-show energy into sailing – the kids loved it. And thanks for all your planning and co-ordinating.
Mike also did a great job of thanking our sponsors and involving them in the presentation. Big thanks go to Westpac, Gill, Botany Access, Deck Hardware, IVF Australia, North Sails and Vacuwash. Without their help the association would not be able to deliver such a great event for the kids and families involved. Big thanks also go to the families that sponsored the races throughout the regatta.
As usual massive thanks to Col Chidgey for being an A-Class Race Officer, Kingsley Forbes-Smith and Dan Bromelow for looking after our Novices and giving them much-needed coaching, the support boat crew, Neil Pinnington for his results and handicapping, Kirsty Hunter as registrar, Stuart Thorpe for all the paper-work and Rebecca Curry for co-ordinating merchandise, awards and trophies.
A special thanks goes to Peter Tinworth and all the volunteers from Middle Harbour who contributed their time and skill for the good of the Manly Junior class.
Lastly a big thanks to the sailors and their families. The sailors behaved extraordinarily well and were, as-ever, polite and good sports on the race course. Without these dedicated families the MJ class would not be as strong as it is.
We all can't wait till our MJ community can get back together again at Point Wollstonecroft for the conclusion of the State Titles. See you all then.
Video Competiton
Competition Objectives
Create good quality instructional videos by junior sailors for junior sailors.
Knowledge transfer between junior sailors
General promotion of the Manly Junior class online
Competition rules
Video length should be approximately 1 min, maximum length 90 seconds
Entries should focus on one specific aspect of rigging, sailing or racing techniques.
Submission prior to race briefing on Day 1,Round 3 of 2014/2015 State Titles (Pt Wollstoncroft)
3 Prizes awarded for:
Best instructional video
Runner up
Best submission by a Novice Fleet sailor
Competition entrants should be current MJ sailors. Recent MJ sailors interested in participating should apply in advance to the competition committee
Video content must be presented by junior sailors in keeping with the competition objectives
Content may be on land or on water
Parents may assist with video filming and editing or similar tasks to ensure entries are of appropriate quality
Preferred submission by USB or similar electronic storage format at Round 3 registration.
Acceptance of entries that (i) can not be viewed by committee at Rnd 3 (e.g. due to no internet access) or (ii) do not comply with the above guidelines, at the sole discretion of Competition committee.
Competition committee
| | |
| --- | --- |
| Kingsley Forbes-Smith | Novice Coach |
| Mike Salter | President |
| Stuart Thorpe | Vice President |
| Rebecca Curry | Secretary |
Suggested 'How to' Topics
Roll tacks; Gybing; Where to sit and when; Planing on reach, Setting or dropping spinnakers, Sail settings/shape, Rig tension, Rigging 101 for new parents, Fast starts, Knots, Race Tactics, Launching
Videos placed directly on YouTube should made public and titled:
Manly Junior Sailing – How to ….
Email a link to the MJ Association: manly.junior@gmail.com
MJ Nationals
The daily reports have now been moved to the Nationals homepage.
NSW MJ Teams Challenge – gauging interest for the return of the MJ Teams Racing event in April 2015
Would you like your club to win this grand old, massive trophy?
Have a look at the history associated with this trophy
http://www.foxsportspulse.com/assoc_page.cgi?c=0-10053-0-0-0&sID=300075
MYC would like to bring it back on the radar as an event in April 2015 at the end of this season. But we need to make sure we have enough teams to make it relevant and worthwhile. So we are asking for your feedback.
Teams racing is exciting and gives the kids an opportunity to think strategically and work as a team. It will give the kids some new enthusiasm for their sailing.
Possible dates are:
4-April-2015 – Easter Saturday

19-April-2015 – Sunday - End of School Holidays

26-April-2015 – Sunday – first weekend of Term 2.
Aspects of the event are:
Held at Manly, hosted by MYC

Teams with minimum of 3 boats

Multiple teams from a single club welcome

Spare boats will be put into teams

Teams racing coaching provided with an education session and practice race included at the start of the day
Please email us at mailto:Manly.Junior@gmail.com and let us what date you would prefer.
Round 2 MJ NSW State Championships - Avalon

Avalon Sailing Club turned on the weather for a picturesque regatta in the pristine Pittwater for Round 2 of the MJ States on 22/23 Nov 2014 . Thanks to the well-oiled machine of volunteers for getting us all onto the club deck in time for a smooth start on Saturday morning and a picnic lunch on the beach up north of the club between races!!
Conditions on Day 1 were almost perfect – Sunny with a light SE seabreeze. Some in the fleet would have preferred a few more white caps but you can't please everyone. 1 race either side of lunch produced zero capsizes and very tactical racing in light variable winds. Lots of lead and position changes made for competitive racing and kept spectators on the edge of their gunwales. Day 2 weather was almost too perfect – sunny and clear with very light and variable winds. Winds were so light that the race committee only got a race started at 2.30pm – 3 hours behind schedule. Then unfortunately it had to be abandoned as the fleet only progressed centimetres over the start line. 10 minutes later we gave up and headed home. Still, all was not lost – kids had a blast swimming and playing games with their boats while parents got some desperately-needed chill-time.
At the top of the open fleet the competition was very close in the first half of both races with 5 boats having a taste of the lead at some point – Another Dark and Stormy (Alex Hart), Firefly (Hugo Taranto), Five Star (Alastair Hunter), Shotgun (Jake Barnabas) and Wicked (Jesse Dransfield). However, Firefly prevailed in both and took 2 out of 2 wins. For further results have a look at the results page.
Avalon Hospitality was always friendly and homely and the Regatta and racing execution went very well thanks to all volunteers. MJs can't wait to return to Avalon in seasons to come. See you all at Middle Harbour for the Nationals and then Point Woolley for the conclusion to a fascinating State Titles series.
For a complete report see event home page
Round 1 MJ NSW State Championship - Port Kembla

Port Kembla Sailing Club yet again produced an awesome regatta for Round 1 of the MJ States. Thanks to the volunteer army for providing that signature hospitality!!
High winds on Day 1 produced a shortened course for race 1 and the abandonment of Race 2 for the Novices due to fresh SE winds approaching 20 knots. Lots of choc-tops and retirements. The Open fleet powered on and put in 2 exhilarating high-octane races – some fast shy-reaching on the triangles. Day 2 was lighter and allowed the Novice to complete 2 clean races with massive improvements in skills all round.
At the top of the open fleet the competition was very close between the top 2 boats – Wicked (Jesse Dransfield) winning 2 and Firefly (Hugo Taranto) taking his first win in State Champs races. For further results have a look at the results page.
Regatta and racing execution was fantastically smooth thanks to all volunteers. All agreed that it was yet another extraordinarily successful MJ Regatta. See you all at Avalon.
For the complete report please look on the event home page
Winter Training
The Winter Training was hosted by the Manly 16' skiff Club and Manly Yacht Club. These took place on the 27/7/14 and 10/8/14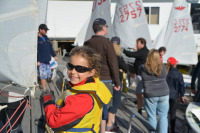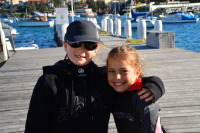 We had 2 great days of training up to 33 boats on the water from many different clubs. The skill level ranged from Rookie through to the front of the fleet. We saw some great improvements over the 2 days.

Photos
Lots of photos and video slideshow - Thanks to Genelle Aldred
Dates for this Season
States
Round 1. Port Kembla Sailing Club – 25th & 26th October, 2014
Round 2. Avalon Sailing Club - 22nd & 23rd November, 2014
Round 3. Pt. Wolstoncroft – 14th – 15th February, 2015
Nationals
Middle Harbour – 27th – 30th December, 2014
MJ Nationals Video

Click here to watch a great video of the Nationals created by Niall Powers. If you would like a DVD copy of it please contact Niall on niall.powers2@gmail.com. He will charge a nominal cost of $4 to cover his costs. Thanks Niall
Newsletters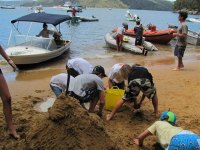 October 2013 Newsletter (update)
News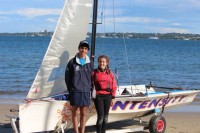 Congratulations to 12 year old Jacina Oliveri and her brother Jante from Port Kembla who won the MG State Titles on handicap on the weekend. What a big step from skippering an MJ in the Novice Fleet to skippering an MG – well done Jacina.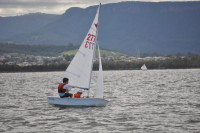 Congratulations to
Zac Barnabas and Oscar Triglone
for winning the 2013 MJ National Championships and the 2013/14 NSW State Championships
Lots of Photos on the pictures page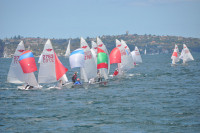 Some Great Sailing at this weekend Round of the States in Manly Cove. Thank you to all the Volunteers that worked so hard to make a great weekend. Lots of Pictures can be found here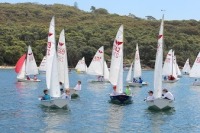 More pictures from the 2nd round of the States at Manly from Genelle Aldred - Thanks Genelle
Presentation
Race 4
Race 5
Race 6